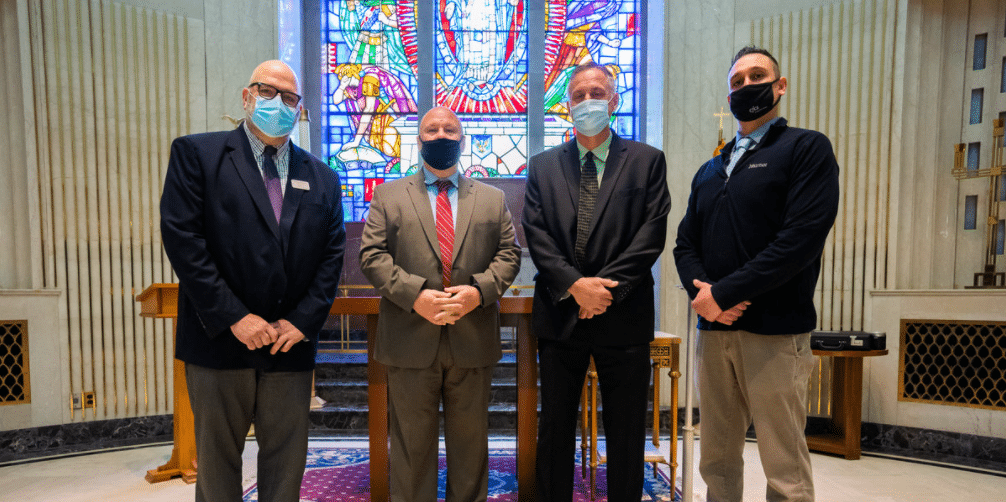 Fourteen months into Pandemic, Catholic Cemetery Workers Reflect on Difficult Year, Pledge to Walk with Families Suffering Unexpected Loss
DETROIT — During the worst months of the pandemic, Detroit's Catholic funeral and cemetery workers were among the most "essential" of essential workers.
It's not how they wanted it, but it's the reality everyone was dealt.
Long hours, difficult conversations — made more difficult by virus-mandated restrictions — and daily changing job roles made an already unfamiliar situation even more challenging for staff at Detroit-based Catholic Funeral and Cemetery Services, whose responsibilities include maintaining a pastoral presence for those grieving the untimely death of a loved one.
Detroit Archbishop Allen H. Vigneron will celebrate a Mass on Thursday at the Cathedral of the Most Blessed Sacrament in recognition of the dedication cemetery and funeral staffers have shown in the midst of the COVID-19 pandemic.
The Mass is just one way to show appreciation for those called to help families dealing with loss during a once-in-a-century pandemic.
"Early on in the pandemic, there were so many unknowns of how we were going to do things," Bob Hojnacki, director of cemeteries for Detroit's Catholic Funeral and Cemetery Services (CFCS), told Detroit Catholic. "Things were changing on a weekly, daily to an almost hourly basis. We had to change a lot of our protocols and safety procedures for our staff, families and how we processed those changes."
While parishes and schools ceased in-person operations, cemeteries had no such luxury.
Cemetery workers donned special equipment to keep them safe while burying COVID-related deaths. Other funeral staffers worked with families remotely, planning burial services at the cemetery when parishes were closed, establishing live streams so more than 10 people could witness funerals, and at times, being the sole witness of the departed's burial.
"They were very much front-line workers, but not celebrated in the same way as health care workers," said Robert Seelig, CEO for Catholic Funeral and Cemetery Services, which operates in 15 dioceses across the country.
Seelig, who is based in the Diocese of San Jose, Calif., flew in to Detroit for today's Mass, one of a series of Masses across the country celebrated for funeral and cemetery workers whose ministry is often conducted behind the scenes.
"On the one-year anniversary of the first COVID burial in California in the Diocese of San Jose, we did a Mass, but we couldn't have one Mass that would say, 'the pandemic is over,'" Seelig told Detroit Catholic. "We realized we needed to so a series of healing Masses for the workers, recognizing what they have gone through, but realizing that we're all going through recovery at a certain level."
The changing nature of government restrictions and knowledge about the spread and transmission of the virus was something cemetery staffers around the country had to adjust to, as Catholics were looking to cemeteries as one of the few places public worship was being done during the height of the lockdowns.
"We were one of the few, if not the only, ministry of the Catholic Church where employees had to continue to go to work," Seelig said. "We went into crisis-management mode with daily national meetings with all of our directors and staff. We calmed everyone down and looked at what we could do."
Turns out, what they "could do" was a lot.
Across the country, Catholic funeral workers changed their daily routines on the fly, meeting with families remotely, having staffers drive in separate cars when showing potential plots and investing in livestream technology to cater to families unable to travel or attend funerals in person.
"Early on, we had the family environmental specialists and grounds crew wear special suits and spray down the caskets when they would come in, and we weren't allowing families to be around for the burial," Hojnacki said. "Since then, learning what we know about COVID, we no longer are in suits, but we're still keeping distances and have special proper equipment to handle the body and caskets. Families can watch the committal from a safe distance — 50 feet — and do a service prior to burial."
Hojnacki said CFCS Detroit had an estimated 2,700 burials last year, just a bit more than the 2,400 it averages, with 375 of those being COVID-related burials.
Some cemeteries experienced backlogs, both because of the increase in burials and also because of families opting to wait for crowd size and travel restrictions to ease before interring cremated remains in a grove or niche in a mausoleum, Hojnacki said.
Despite the spiritually and physically taxing work, funeral and cemetery workers offered a critical ministry to suffering families often dealing with unexpected loss.
"Our staff has really stepped up," Hojnacki said. "Early on, there were a lot of unknowns and a lot of anxiety, and we turned our switch to focus more on families who were having what we call 'at-need' deaths."
"At-need" deaths are sudden deaths in which no prior arrangements were made. Families work with CFCS staff on planning a funeral, which is a difficult thing for families not expecting to do so.
Patricia Kade, a family service adviser at Holy Sepulchre Cemetery in Southfield, works with families in pre-need and at-need planning. Normally, she would meet in person with families, walking them through the cemetery grounds or the mausoleum, explaining the options for burial and interment.
Despite meeting with families via Zoom now, Kade knows it's her job to provide comfort and familiarity as families navigate a difficult and stressful time.
"If presented properly, families understand all the new restrictions and what needs to be done, and they accept it," Kade said. "We provide compassion to people, answering their questions, guiding them through this process. We explain how we can have a committal ceremony that is socially distanced with people wearing masks, or with people staying in the car. We try to be flexible."
Even weeks after the funeral, CFCS staffers have been calling families to check in on them, offering a listening ear and compassionate voice.
"We have received so many thank-you notes and feedback from families," Kade said. "We pray every day for our families, for our staff and the people who just buried a loved one. We ask if there is anything they need, and often they say, 'Thank you for making this easier.' I think that keeps us going."
That sense of gratitude extends to the grounds crew, who are charged with making sure cemeteries look their best as places of gathering and prayer.
"Families are looking for closure, and I believe my team's job is to help provide that closure and ensure there's care and love for the one who is being buried," said Nicholas Acosta, operations manager for CFCS – Detroit, who oversees the grounds crews for all of the ministry's Detroit locations. "We try to make sure families have the best — which is hard to say — but the best and most respectful manner in laying their loved ones to rest."
Seeling said Catholic cemeteries throughout the country have embraced their role in providing a critical corporal work of mercy, especially when other Catholic ministries were limited by government restrictions, as an evangelization opportunity.
"Our cemeteries are actually places where Catholics, non-Catholics and non-practicing Catholics are congregating," Seelig said. "So we have this ministry opportunity, relating to Archbishop Vigneron's Unleash the Gospel, of how do we invite people back to an experience within the Church? How do we reconnect them? We see the opportunity the Church has to minister to these families. You don't have to go out and seek people in need; they come to our cemeteries every day."